Transitional Program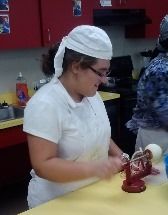 IEA offers a transitional program as part of its high school curriculum. Students have three main areas of focus:
Employment
Community Involvement
Life Skills
As part of their transitional learning, students partake in different jobs both in the school setting, as well as in the community. Students have an opportunity to learn a variety of skills, including:
Food preparation at local restaurants
Child care at local daycares
Retail experience at local merchants
Students also practice different daily life skills including, meal preparation, money handling, and more.