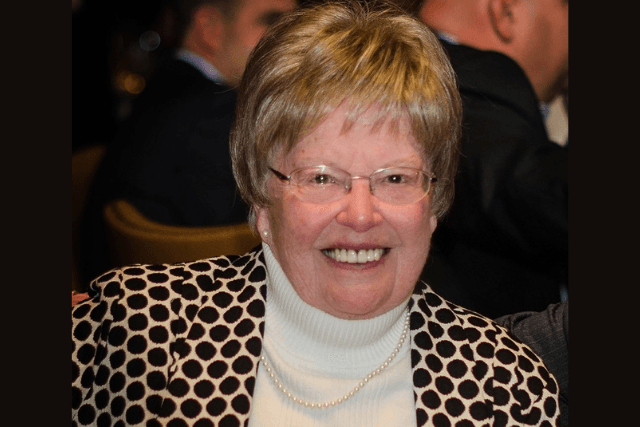 Dear Staff, Families and Friends,
It is with heavy hearts that we reach out to let you know that our beloved founder, Sister Helen Dowd, passed away this evening. IEA began as a dream of Sister Helen's in 1971, where she wanted to create a mission to help students, especially special education students, reach their full potential through a nurturing and individualized learning environment. By educating the whole child with thoughtfulness, good intentions, and hard work, she felt IEA could motivate and challenge each student to develop the skills necessary for success in life. She knew that if you believed in a child, they would believe in themselves.
IEA owes its growth and success to her incredible vision and tenacity. She was an educator who had the right vision well before its time. Her love for her staff, her students, and all our IEA families set our school apart from other schools. Even a few weeks ago, she continued to talk about IEA as a school built on love. Her hope was that kindness, love, and dedication to her vision would continue for many years to come. Sister Helen will always be remembered for her generous spirit, her loving heart and her incredible dedication to her IEA family.
Family was incredibly important to Sister Helen. Her family of birth, most especially her brother John Dowd, her family with the Sisters of St. Joseph and her family at IEA: the staff, the students and their families. "Families are God's design of love on earth," Sister Helen shared this with us at the 50th Anniversary Celebration and it is that love that sustained her. She shared with us that she knew the school was in good hands and she was happy that her family would continue to grow by touching and supporting many children and families for years to come. Sister Helen never stopped dreaming and was always thinking of the next idea to support the children, we will continue that legacy with the same passion.
While we don't have service information yet, we will share that as soon as we are able to do so. The school will be closed the day of the service. We are incredibly grateful to honor Sister Helen in the work we continue to do each day and to have been part of her family.
At her retirement celebration, the song from the popular musical Wicked was played, because it embodied Sister's spirit best, and that continues to be true today. Thank you Sister Helen, "Because I knew you, I have been changed for good."
Please join us in sharing our deepest condolences.
Warmest Regards,
Lori Susi Sister Sally Hodgon
Executive Director Provincial of the Sisters of St. Joseph of Chambéry